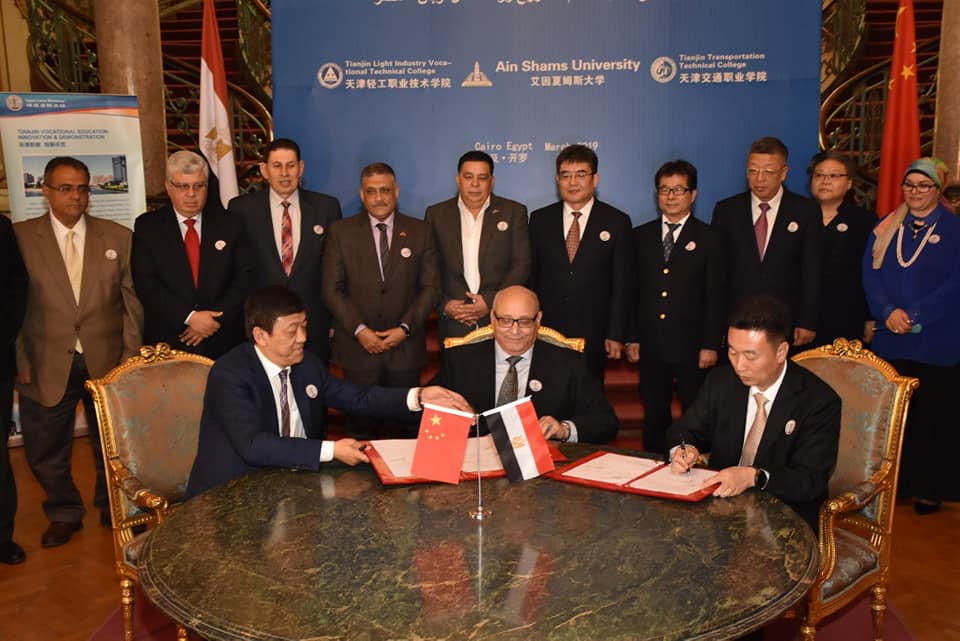 Prof. Dr. Abdul Wahab Ezzat, President of Ain Shams University and Mr. Chen Ji Men, Minister of Advertising and Publicity of Tianjin Province, signed a Memorandum of Understanding (MoU) to launch the Luban workshop, the first of its kind at the level of Egyptian universities. This came in the presence of a group of university professors the high-level Chinese delegation, which includes 40 figures, specialized in the fields of vocational training and community service in a number of scientific and research related fields.
In his speech, Prof. Dr. Abdul Wahab Ezzat referred to the heritage of Ain Shams University, which is rooted in 2700 BC in the same place as the University of On, and then its inception in the modern era under the name of Ain Shams University. He pointed to the University's success in expanding the base of cooperation with various parts of the globe through partnerships with universities and institutions of the West and East.
He added that the Faculty of Engineering at Ain Shams University, which is active in the implementation of the workshop, is one of the oldest faculties of the university, which dates back to 1832.
He pointed out that the Faculty began a few years ago a new era in the development of the system of engineering education by linking it to industry and the requirements of economic development, as well as the development of educational curricula and training programs to meet the requirements of the labor market.
The Chinese Minister of Publicity and Information praised the international reputation of Ain Shams University among the Egyptian universities, which made it the best choice for the implementation of the workshop, which is scheduled to be implemented in ten African countries.
He stressed China's pursuit of economic development, which is based on cooperation with the other and benefiting from all experiences.
He called for the necessity of activating the programs of the Luban workshop in various Egyptian universities.