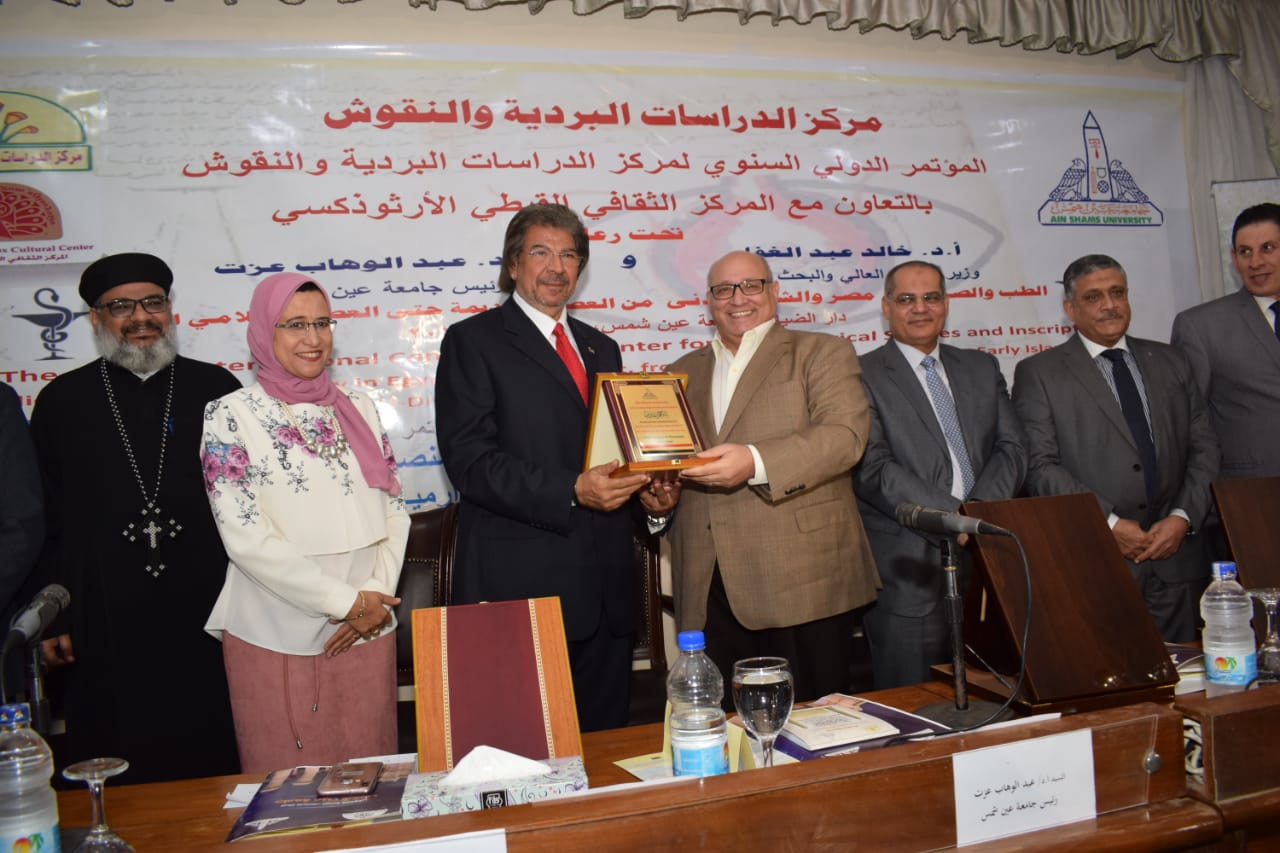 Prof. Abdul Wahab Ezzat, President of Ain Shams University and Dr. Moustafa Amin Assistant Secretary of Archeology, opened the annual international conference of the Center for Papyrus Studies and Inscriptions "Medicine and Pharmacy in Egypt and the Near East from Ancient Times to the Early Islamic Period", which was held in cooperation with the Coptic Orthodox Cultural Center.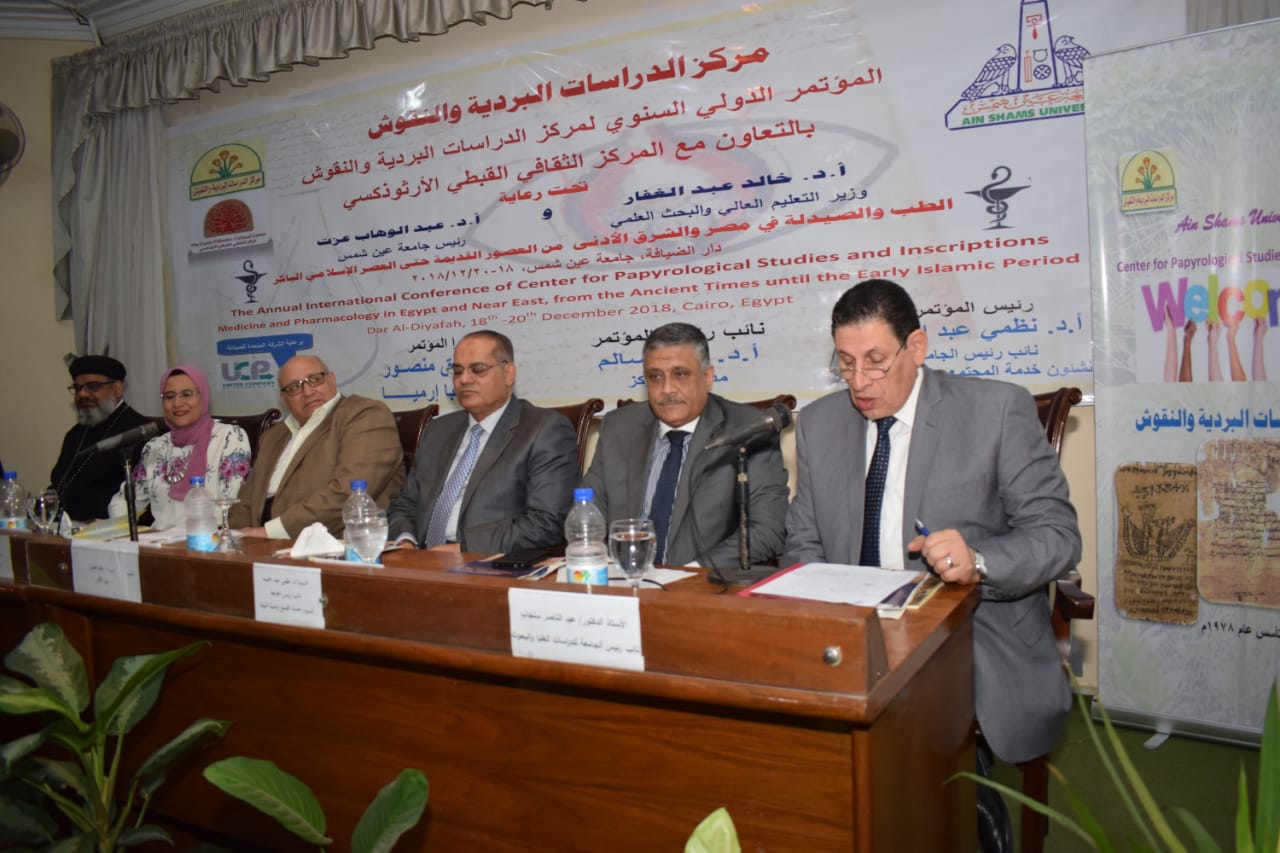 During his speech, Abdul Wahab Ezzat, President of the University confirmed that Ain Shams University is one of the oldest universities in the world. It was founded on 2700 years ago. Ain Shams University is the first university to establish a high institute for papyrus studies and Inscriptions. It is the first of its kind in Egypt and perhaps in the Middle East.
He pointed to the success of the archaeological mission of the university in reaching many important discoveries in the Arab region of the fort, the historical extension of Ain Shams University, pointing out that the interest of the university in this area reflected positively on the classification of the International University, which moved forward in many disciplines, The world's top 300 according to the Shanghai International Classification.
He announced the university's readiness to sign a joint tripartite protocol of cooperation between Ain Shams University, the Italian University of Catania and the Coptic Orthodox Cultural Center next month to establish the largest laboratory for the restoration and research of papyrus and fossils.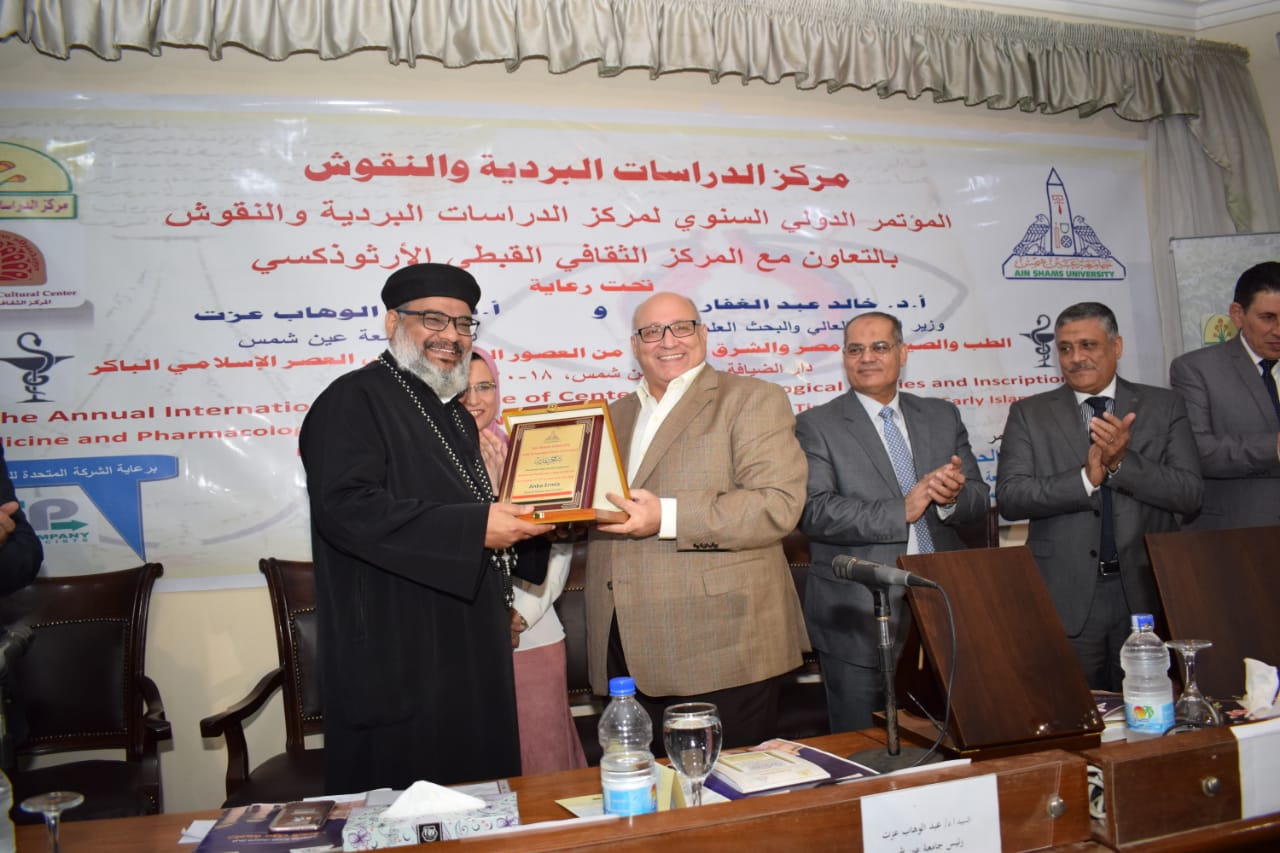 Prof. Dr. Mustafa Hussein, Assistant of Minister of Antiquities stressed that the conference is keeping pace with what Egypt is currently witnessing to raise the value of medicine and pharmaceutical sciences, which encourages us to benefit from the past experiences and build on them. He also reviewed a number of partnerships between the Ministry of Antiquities and Egyptian universities, praising the efforts of Ain Shams University in the field of archaeological discoveries. The role of the center of studies of papyrus and engravings in the field of restoration of fossils and papyrus.
Prof. Dr. Nazmi Abdul Hamid, Vice President for Community Service and Environmental Development, and Chairman of the Center for Studies of Papyrus and Inscriptions and the President of the Conference, addressed the role of the community service sector and the development of the environment and its bright energies to serve the outside community. He pointed out that the conference discusses 80 research papers. He stressed that the outputs of these researches should be measurable and applied, and that they should be published in scientific journals and that the recommendations of the conference reach the decision makers to achieve the desired benefit.