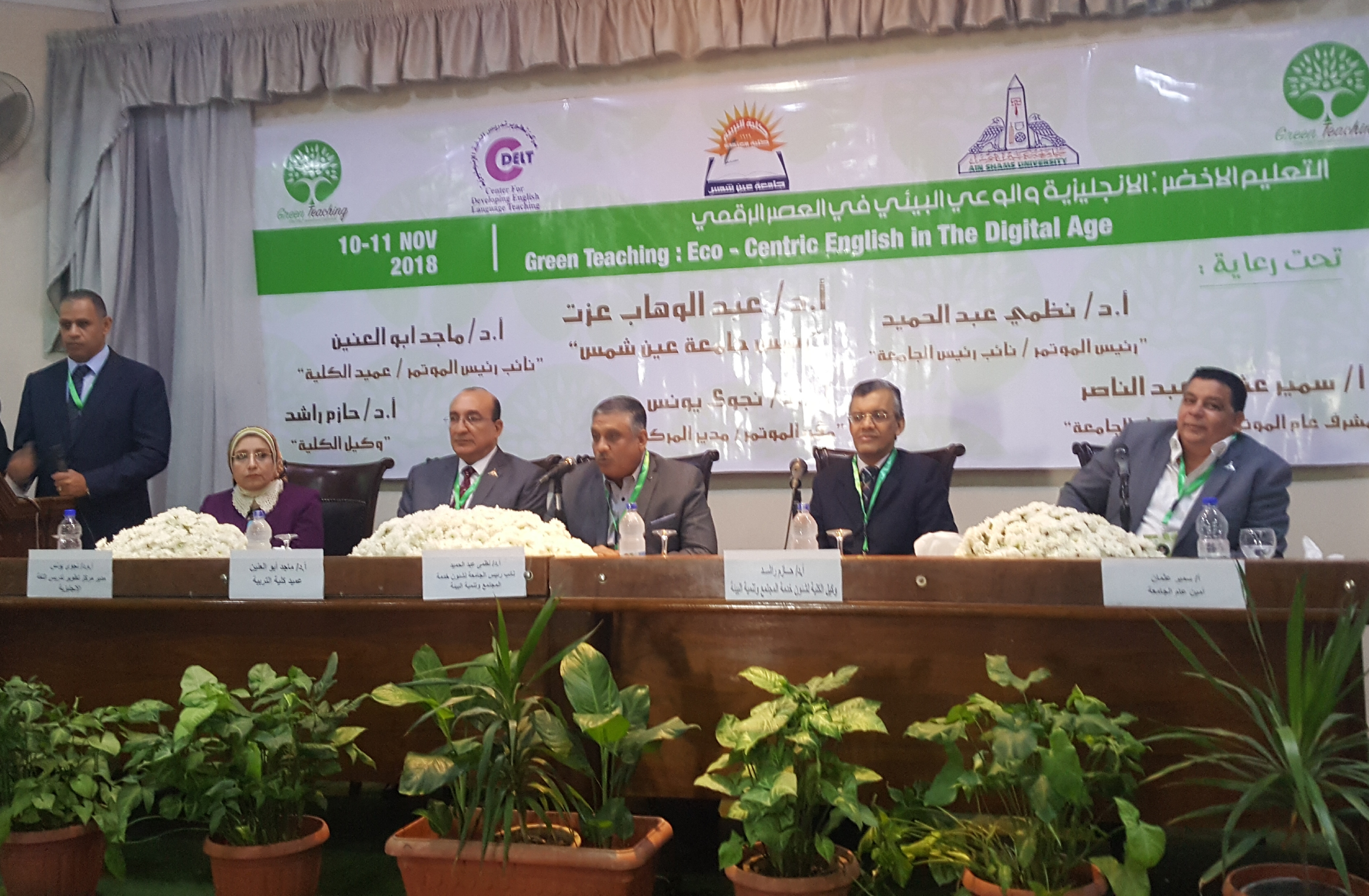 Prof. Dr. Nazmi Abdel Hamid, Vice President of Ain Shams University for Community Service and Environmental Development, and President of the Conference, inaugurated the 35th International Conference of the Center for the Development of English Language Teaching at the Faculty of Education entitled "Green Education: English and Environmental Awareness in the Digital Age"
Professor Dr. Nazmi Abdul Hamid stressed the need to keep abreast of the rapid regional and global changes that have left a clear impact on the development process and education, while preserving our original values and the quality of the word and its rhetoric, and the belief that the success of educational institutions from universities and schools in their scientific, research and educational role will build a positive society that is sophisticated, educated and a producer that meets the requirements and variables of the world.
He pointed out the importance of providing a sophisticated vision for activating the process of teaching and learning English language and employing it in developing students' awareness, as well as the importance of interaction of students, researchers and scientists through the conference because science is an integral message that will succeed only with the expertise of scientists and the efforts of young people.
Prof. Dr. Magid Abu El-Enein, Dean of the faculty, pointed out to the efforts of the Center for the Development of Teaching English Language, which is not limited to holding scientific conferences and events that constitute bright points in the development of the teacher. It is the main objective of the faculty but also offering many courses and training programs aimed at rehabilitating and developing the language skills of the student and teacher and everyone interested in language.
For his part, Mr. Samir Abdel Nasser said that we are making today is the history of tomorrow and every effort we make and every thought we offer or work to accomplish, but is a document and the future of the future of Musharraf sought by everyone in his field.
He pointed out that the results of the educational process does not bear the desired fruit unless it melted into the crucible of human development and community service.
Prof. Dr. Nagwa Younis discussed the idea of green education, which carries positive ideas to preserve the world and its linguistic integrity, which preserves the present and creates a prosperous green future. The word is the miraculous entity that reaches the teacher to the depths of the student's mind and spirit. We communicate with the world with the click of a button.