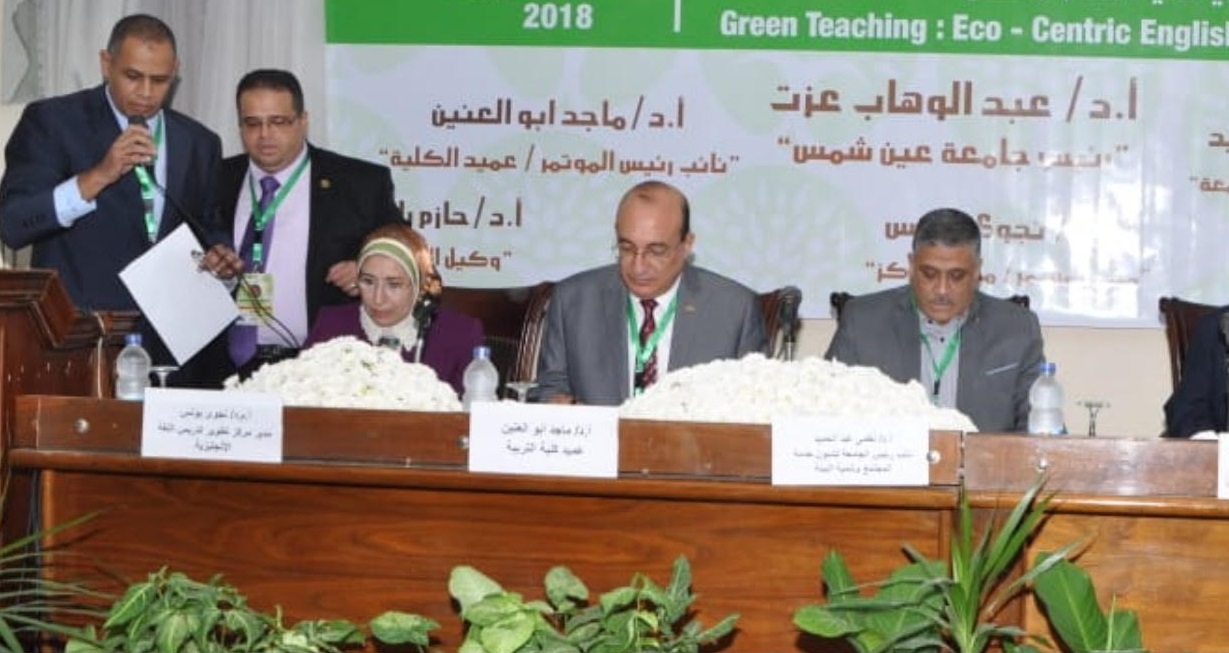 Under the patronage of Prof. Dr. Abdul Wahab Ezzat, President of Ain Shams University, the activities of the 35th Conference of the Education Development Center at the Faculty of Education, Ain Shams University started under the title Green Education English and Environmental Awareness in the Digital Age.
The opening began with verses from the Holy Qur'an translated into English. Prof. Dr. Nazmi Abdul Hamid praised the role of the English Language Center at the Faculty of Education, where his role not only in teaching English, but also in contributing to the development of society and the environment in his belief in the need to preserve the environment and develop environmental awareness among our students. The University supports all its research centers to reach a better educational system.
Mr. Majed Abu Al-Enein pointed out that the conference is very good, as it has set itself the title of green education; a speech language that certainly promotes society in education and behavior. It is an invitation to invest in educating and qualifying humanity for the best.
Mr. Hazem Rashed said that this year's conference combines language in a contemporary way with the preservation of the surrounding environment on the other hand; this is the twinning of our societies' reach for development and urbanization.
Mr. Samir Othman praised the role played by the English Language Center at the Faculty of Education and its continuation throughout these years is a confirmed success for its role in teaching English.
Samir stressed that the university with all its leadership is proud and proud of all its institutions and scientific centers, which certainly affect the previous and current generations and will continue for future generations.
Prof. Dr. Nagwa Younis explained that the concept of green education is a term that aims to germinate a person with a higher behavioral and social thought.
Nagwa pointed out that the conference is attended by ninety-three scholars, scholars, thinkers, creative artists and artists who have been able to spend their two days of true knowledge richness with the participation of a large number of Egyptian public and private universities and universities in Iraq, Lebanon, Saudi Arabia, United States of America and the United Kingdom.