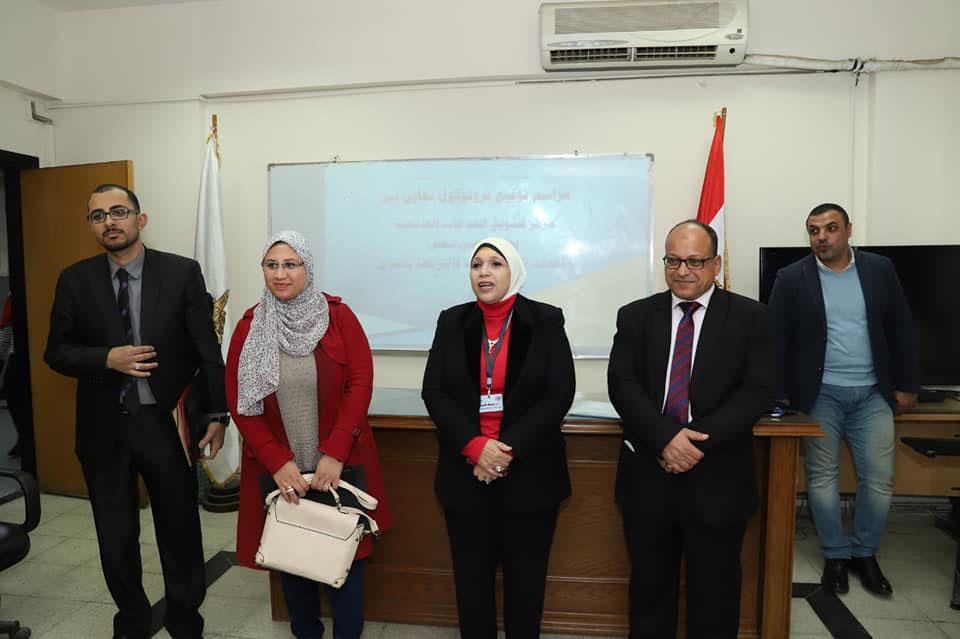 Prof. Dr. Nazmi Abdel Hamid, Vice President of Ain Shams University for Community Service and Environmental Development Affairs and Chairman of the Board of Directors of the University Services Marketing Center signed a joint cooperation protocol with Prof. Dr. Farag Kadri Al-Fakhrani, Dean of the Higher Institute of Languages and Interpretation at Aswan, in the presence of Prof. Dr. Hala Mahmoud Khalaf, Director of the University Services Marketing Center Dalia Ibrahim Secretary of the Center and Dr. Heba Mustafa, director of the Institute's Community Services Marketing Center.
Where the University Services Marketing Center coordinates and implements the protocol that includes the qualification of graduates for the labor market in the areas of training and career advancement, coordination and cooperation in various community activities and training in the fields of language and health "nursing" and management from hospital and project management and tourist restaurant management and also HR programs and TOT.
As well as training in various fields, including English, French, Italian, Russian, the Arabic language for non-native speakers, and educational training and qualification. The protocol targets individuals with fresh graduates and professionals, and the signing of the protocol was followed by evaluation of a presentation that includes practical steps to activate and implement the protocol.